Watering globe for indoor plants
Regular price
Sale price
$158.00
Unit price
per
Sale
Sold out
Plantcare made easy
Waterworks' olla-inspired working ensures a natural gradual distribution of moisture from the partly porous terra-cotta cone into the soil it is in connection with. 

The glass reservoir holds enough water to last for circa ten days and clearly shows when a refill is needed.
This box contains 6 Waterworks-sets, typically all Medium. 
Would like to receive different sized cones? Let us know in the comment section, or get in touch via e-mail.
Materials

Borosilicate glass, terra cotta
Dimensions

Box: 17x17x11 cm
Glass reservoir: 10x10 cm
Terra Cotta cone: 8x3 cm
Care guide

The glass reservoir of the Waterworks-set can be cleaned with hot water whenever you like.
To get rid of green spots, clean with a mixture of water, vinegar and salt or backing soda and use a bottle brush to get everywhere.

We very seldomly clean the cones, but if you feel like the calcium of the water has diminished the working of the system, clean out the scales with a bit of vinegar.
Packaging

Eco cardboard box with inlay and tissue paper - each box contains a Waterworks manual printed on recycled paper.
Shipping & Returns

We aim to ship your order to you within 48 hours.

Here you can find an overview of shipping costs & estimated shipping times by destination.

If any product arrives broken or incomplete, we will make sure to replace the missing or broken part as soon as we can.

We accept returns within 14 days of receiving your order.

Please note: We encourage you to be conscious about placing your order so we can avoid unnecessary shipping movements if at all possible.
Wholesale information

Interested in selling our products in your store?

Read all about wholesale opportunities <here>
Share
View full details
Porous terracotta provides even water distribution.

Simply add to your plants, no repotting needed.

Straightforward usability, original materials.

Go on vacation with ease of mind.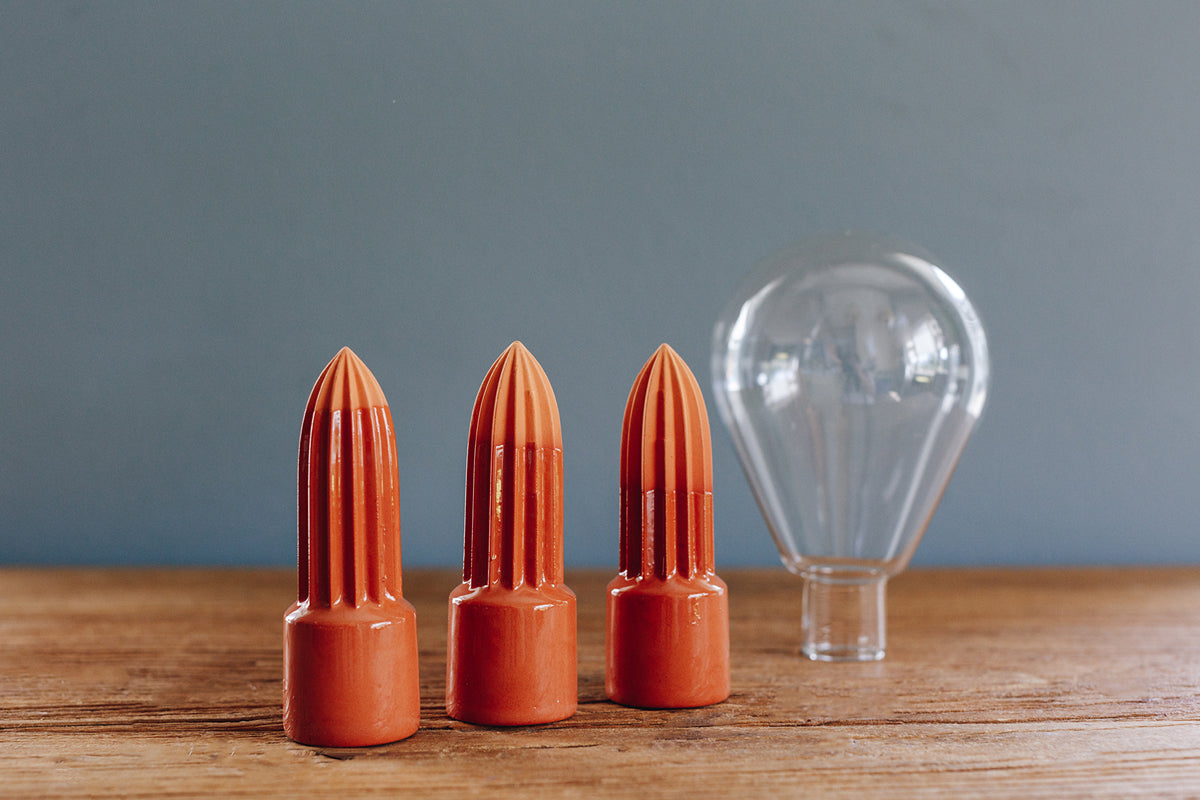 About the cones
Each Waterworks set comes with one cone in either medium, large or small, depending on the level of the glaze and thus remaining porous surface.

We advice Medium for most plants; Large for thirsty (or) larger plants; and Small for plants that don't need a lot of water.

The Waterworks cones can also be purchased without the reservoir and fit most glass bottles of up to 500ml.
Get the cone only
1.

moisten the cone and push into the soil near the plants roots.

2.

Fill the glass reservoir with water.

3.

place the reservoir in the cone -Refill when empty :-)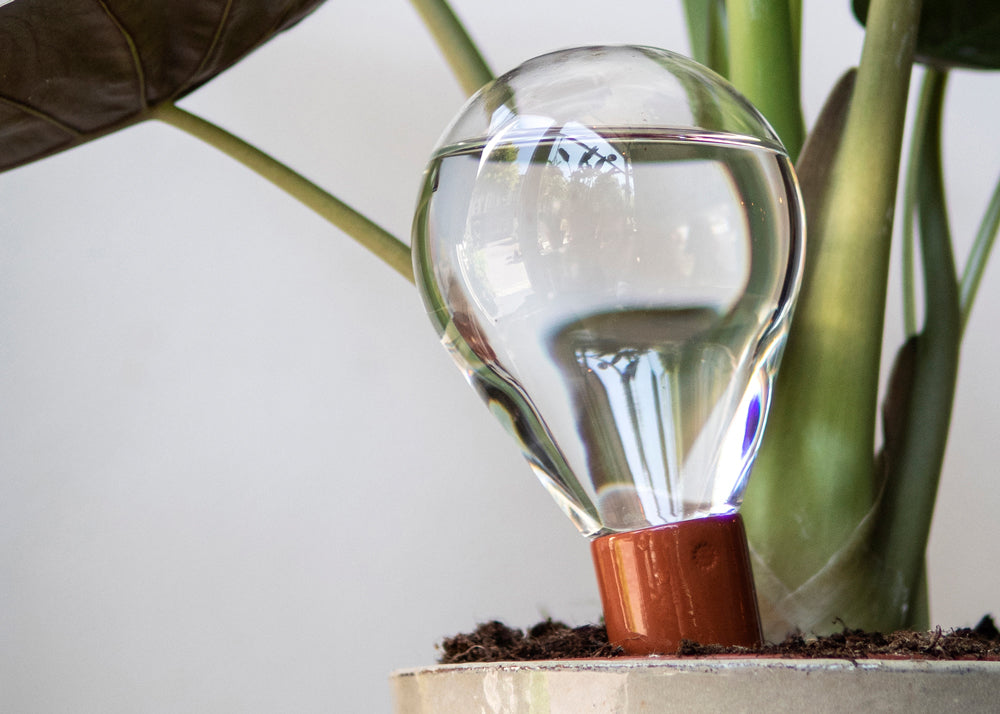 The Waterworks story
We created Waterworks because we needed help keeping our indoor plants alive ourselves, and failed to find something that would not only function well, but also be beautiful enough to add to the plants you love.
More about Waterworks
As featured in
"This witty water reservoir solves the problem"

"Stylish glass watering system"

"Lebensretter / Lifesaver"

"All set for beautiful growth"
Works like a charme
Waterworks works as advertised
Thank you so much for your sweet reply! Warm regards, Thomas & Jana
My plants love Waterworks
And so do I! It has been send to my with the upmost care. Thanks!
Super!
Very good communication, splendid website, beautiful and creative products.
Kan niet meer zonder de Waterworks
Sinds ik de Waterworks heb is mijn enige plant in huis nog steeds levend. Ik hoef er niet iedere keer op te letten of de plant nog water nodig heeft. Ik kan niet meer zonder de Waterworks!!
Happy indoor plants!
I now have got about 6 of these Waterworks using at home. I mainly use them for my bigger plants. It is incredible to see that ever since using them for my plants, I have to think less about watering my plants. These Waterworks cones do the job for me. Which is especially handy when being away from home for a holiday. I only to refill the bottle once the water is almost gone. Depending on the season of the year, it can take weeks before I need to refill it again. Of course, during hot summer days, I have to refill them a bit more often. Yes, Waterworks is highly recommended.
Designed for the future

We are very aware of the abundance of stuff already in the world, and purposely create innovative problem solving products that help save resources, reduce waste and make green living easier for as many people as possible.

Future proof design manifesto

Swift and secure shipping

We ship all over the world with trustworthy carriers.

Order for €100,- for free shipment within the Netherlands, €150,- for free shipment to Germany and Belgium, or €250,- for free shipment within the EU.

Read all about shipping here