Store fruit & Vegetables in a better way - reduce food waste
Regular price
Sale price
$288.00
Unit price
per
Sale
Sold out
The Patera Media helps you store fruit and vegetables in a better way
 Please Note: All Patera Media bowls are currently made by hand. Due to the overwhelming popularity and subsequential lead times, it is currently not possible to place a new order.
Send us an e-mail to be added to the pre-sell list and we'll keep you updated about future order opportunities.
Materials

Terra-cotta, beech wood, rubber
Dimensions

Diameter dish: 30 cm / height ca 30 cm (including handles)
Packaging

Eco cardboard box in a box in a box - anything to keep the terracotta parts save
Wholesale information

Not available yet, but we are working on it

Interested in being among the first stores to sell the Patera Media?

Get in touch via home@houseofthol.nl
Share
View full details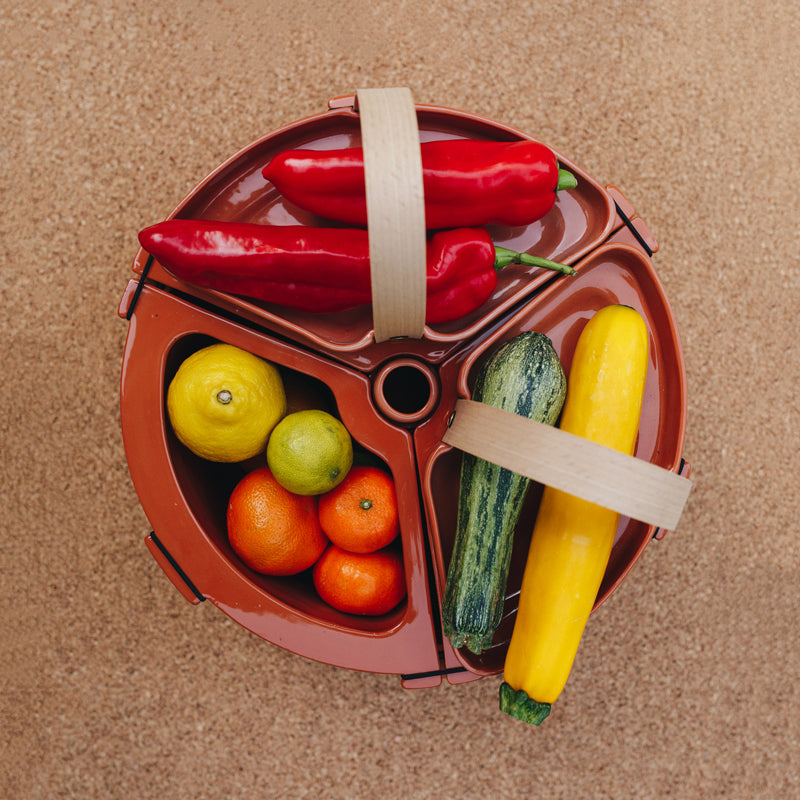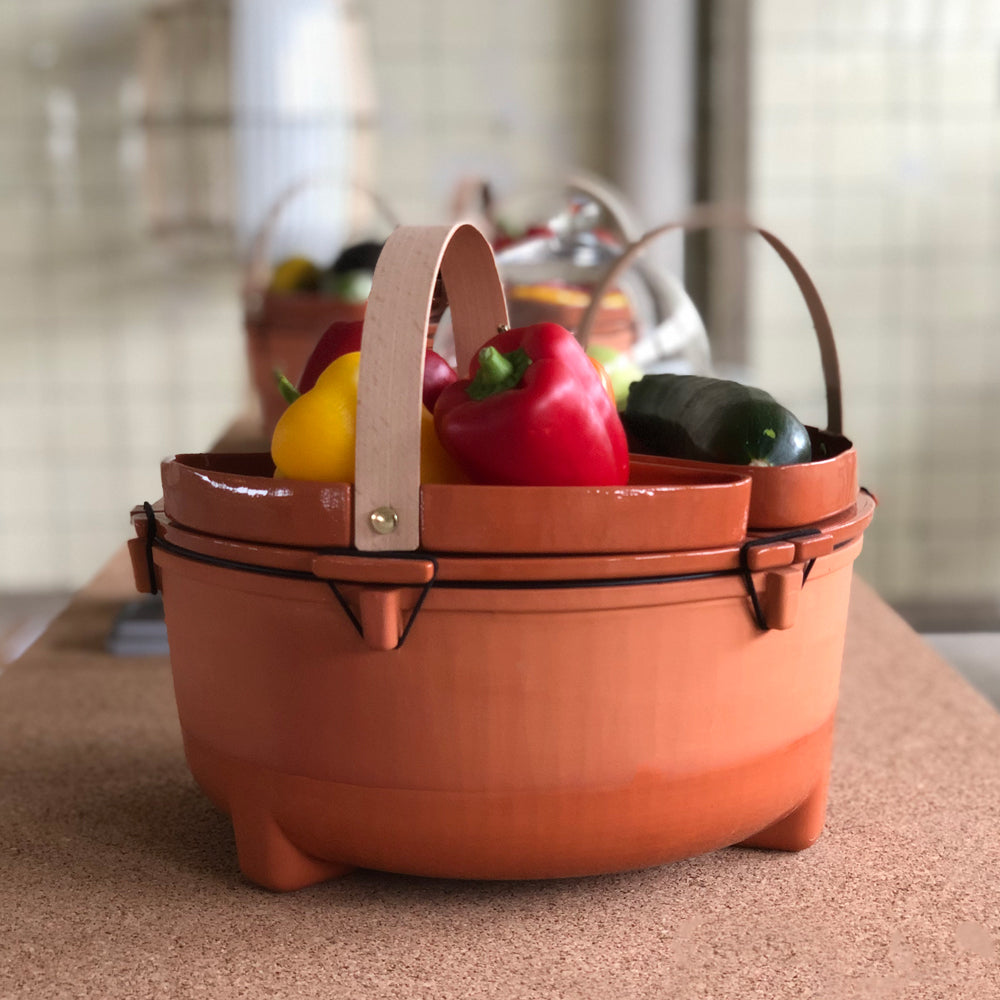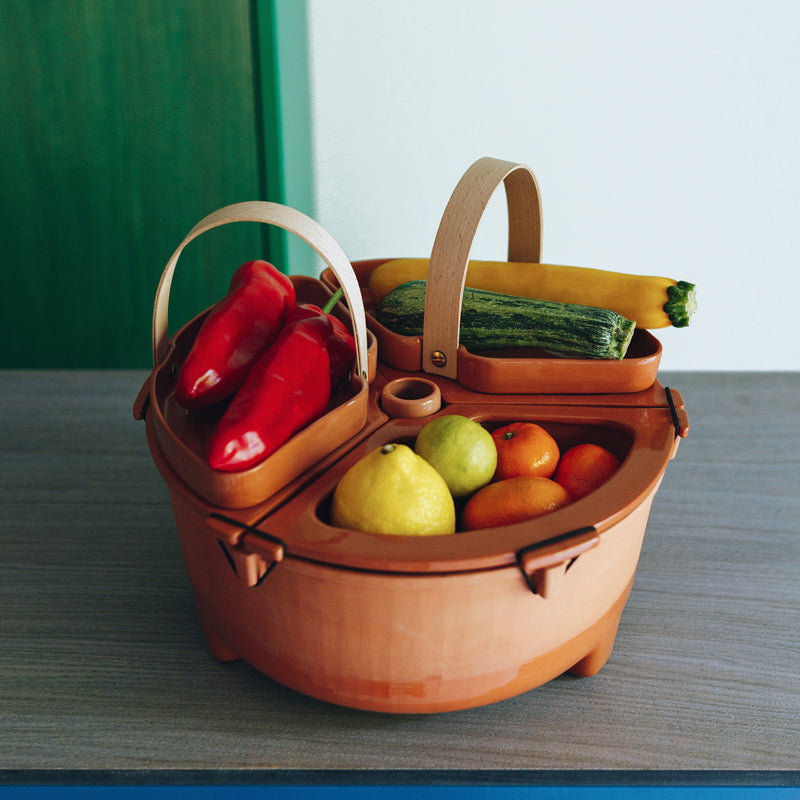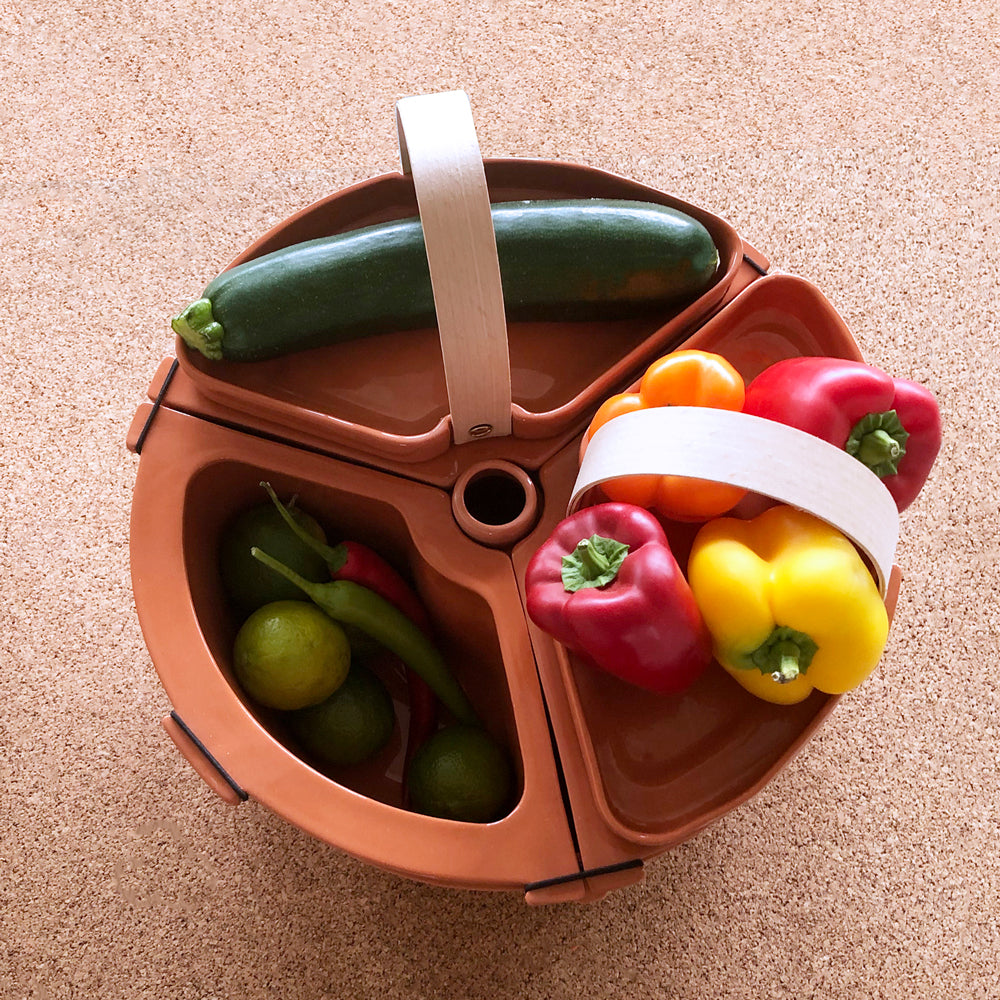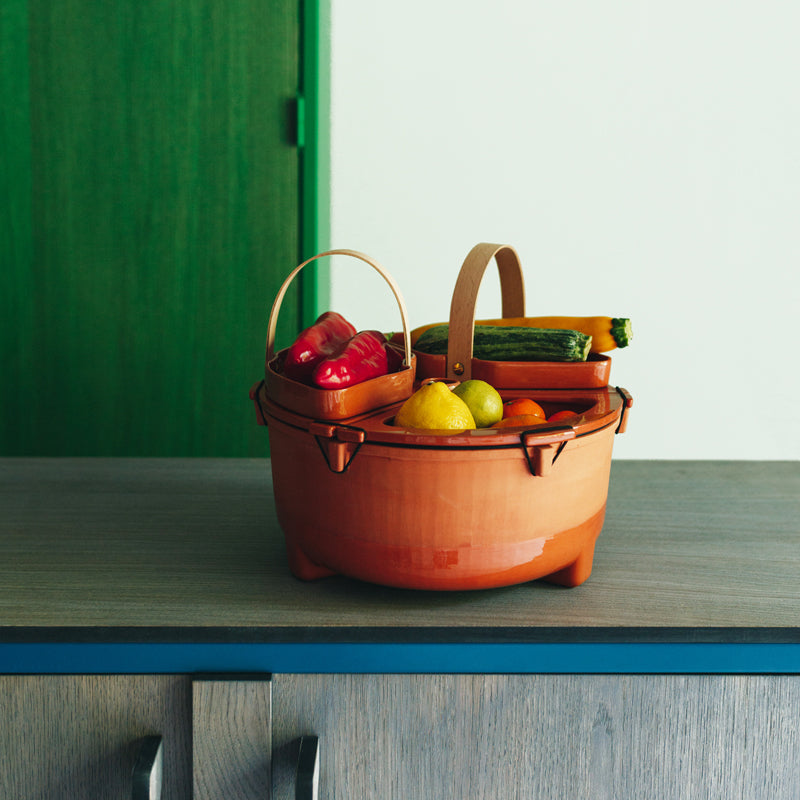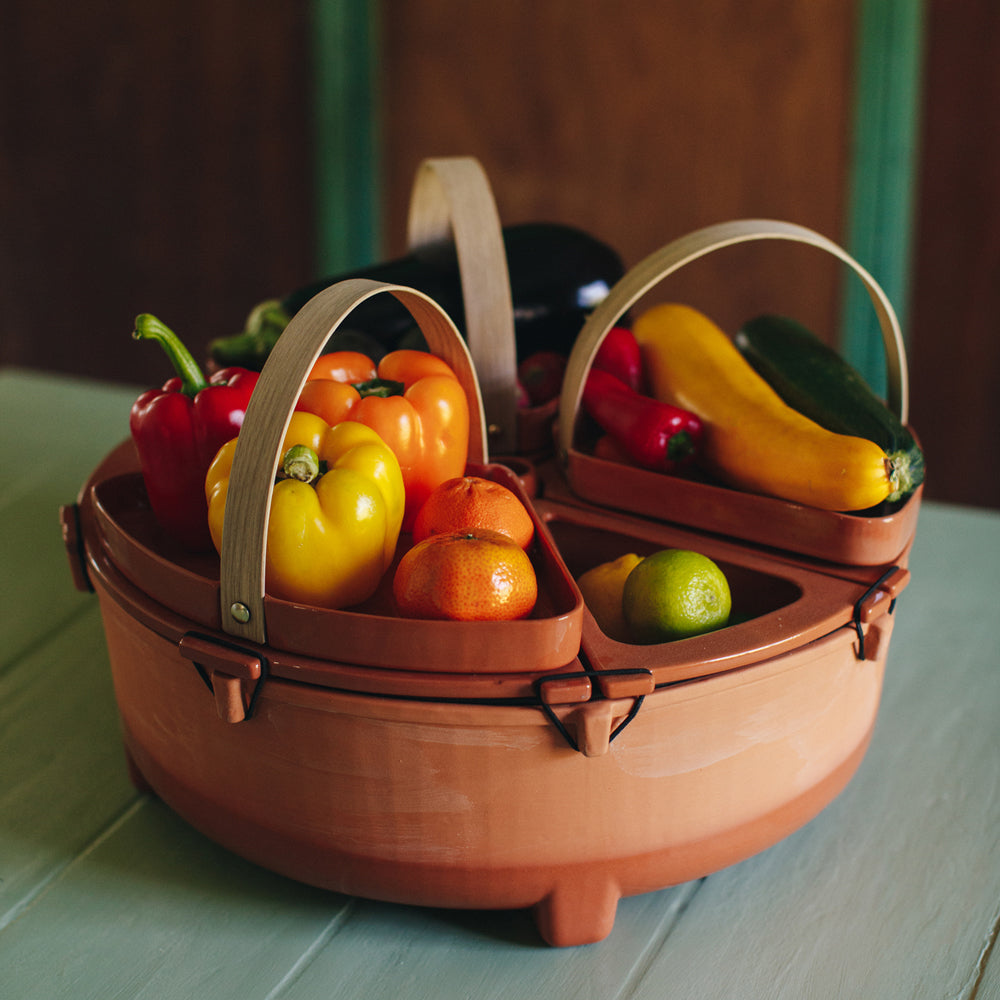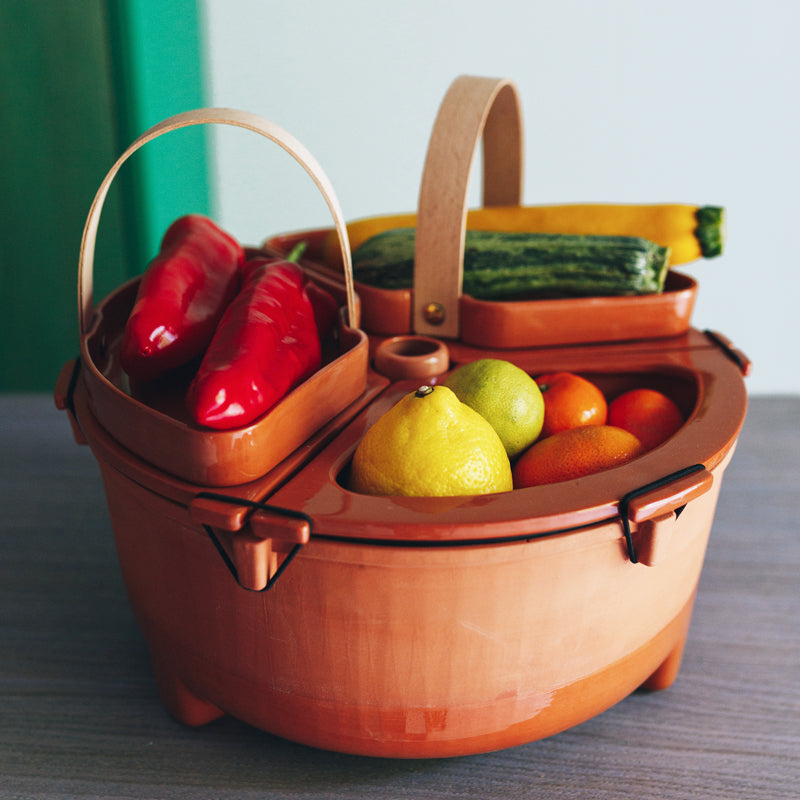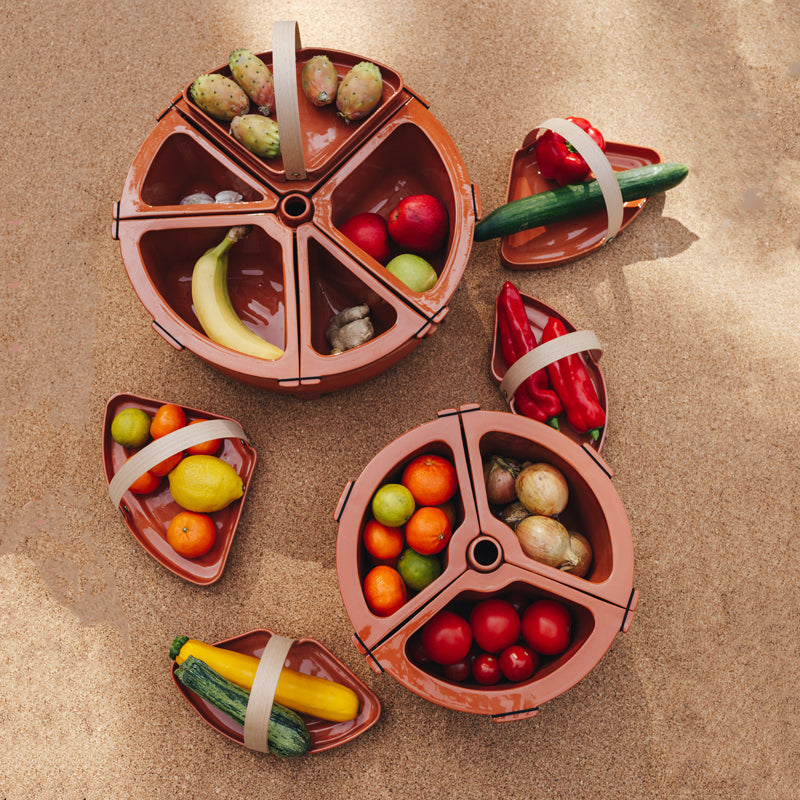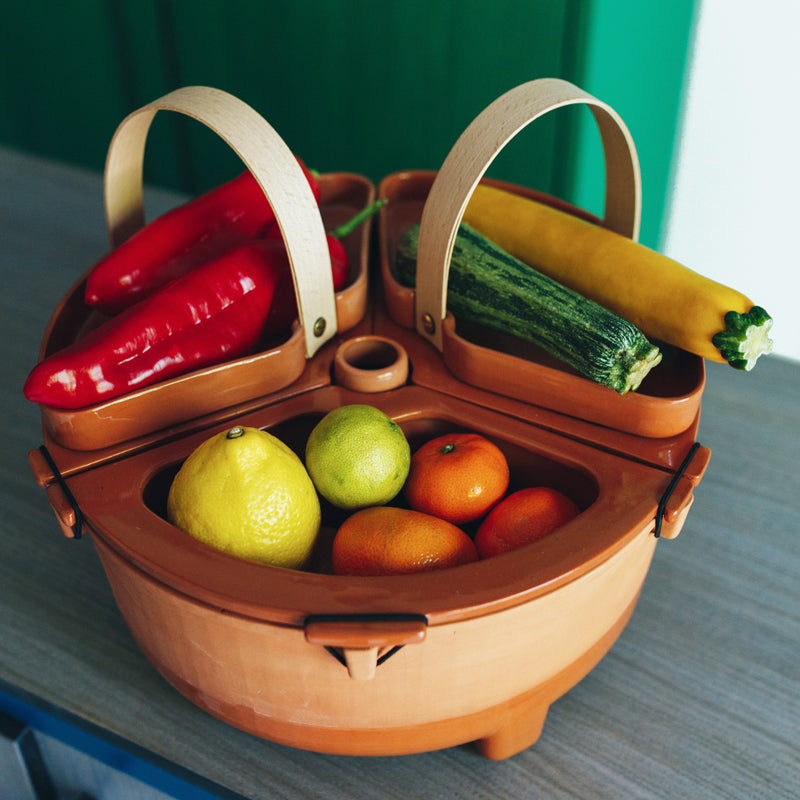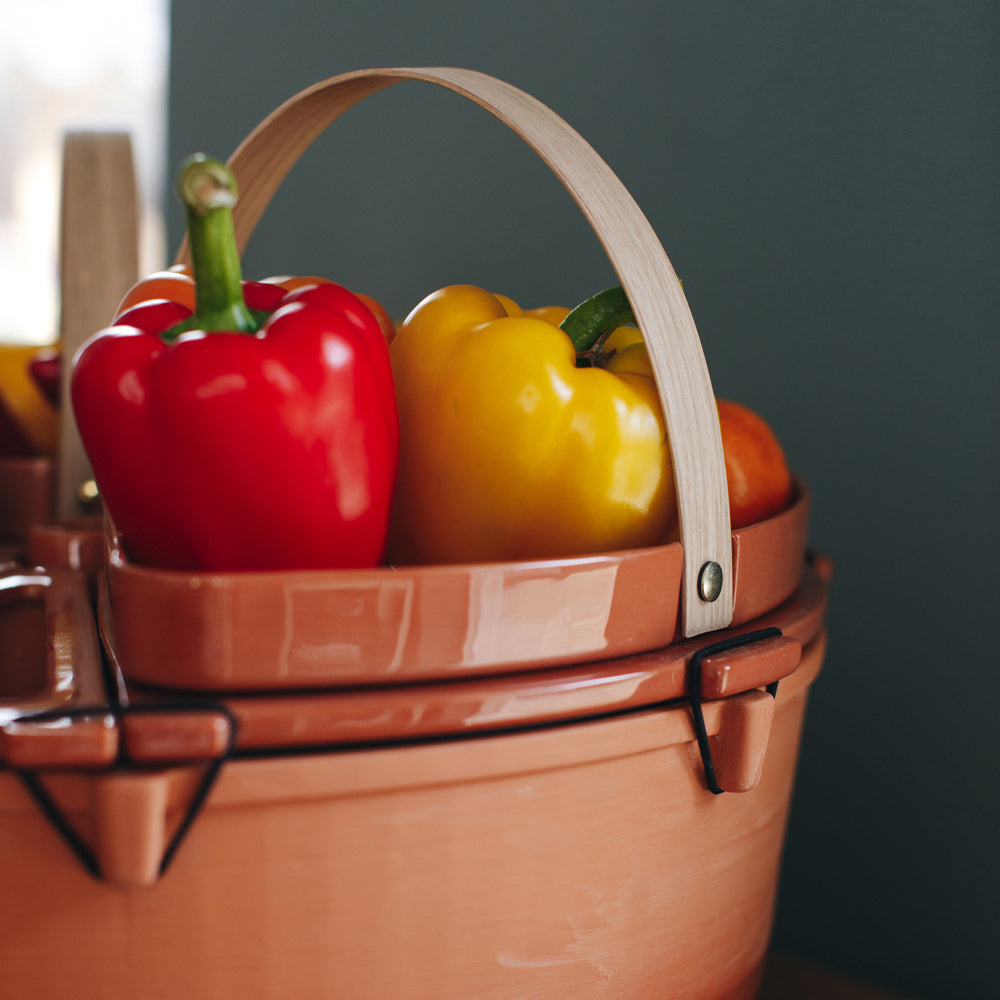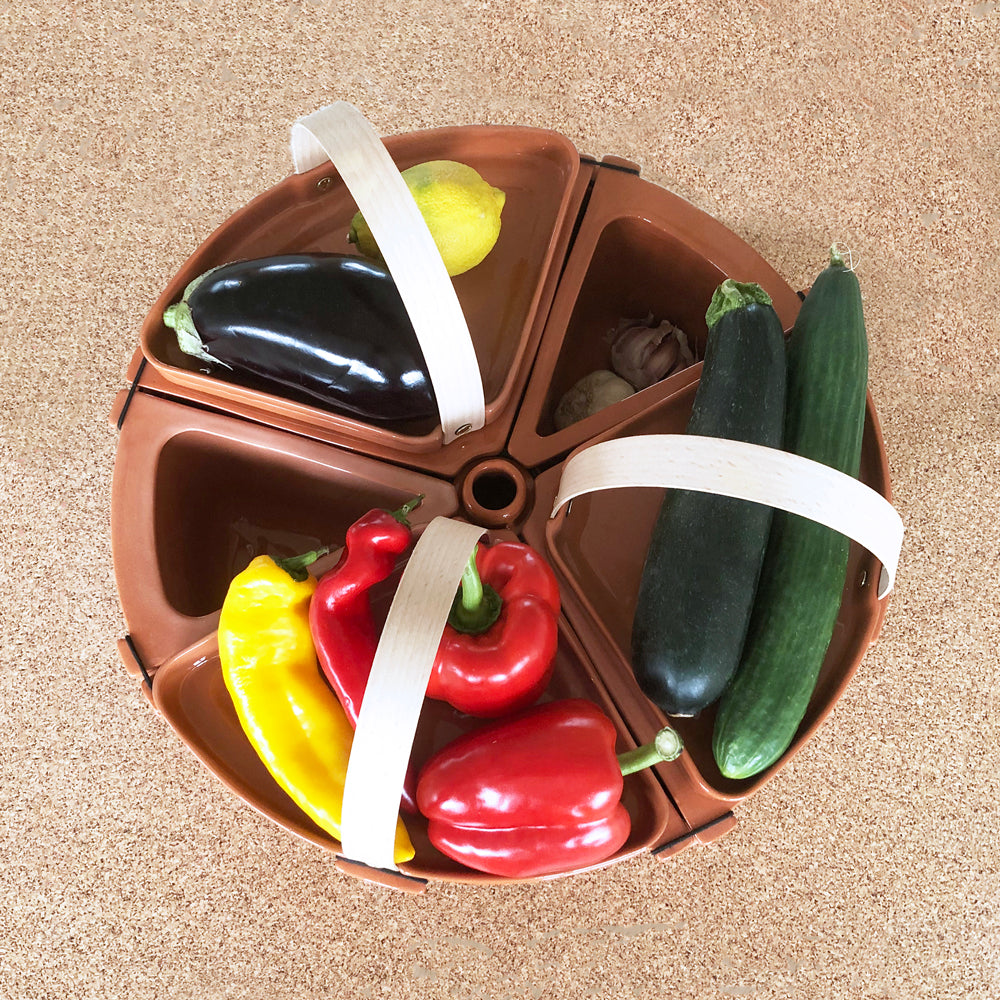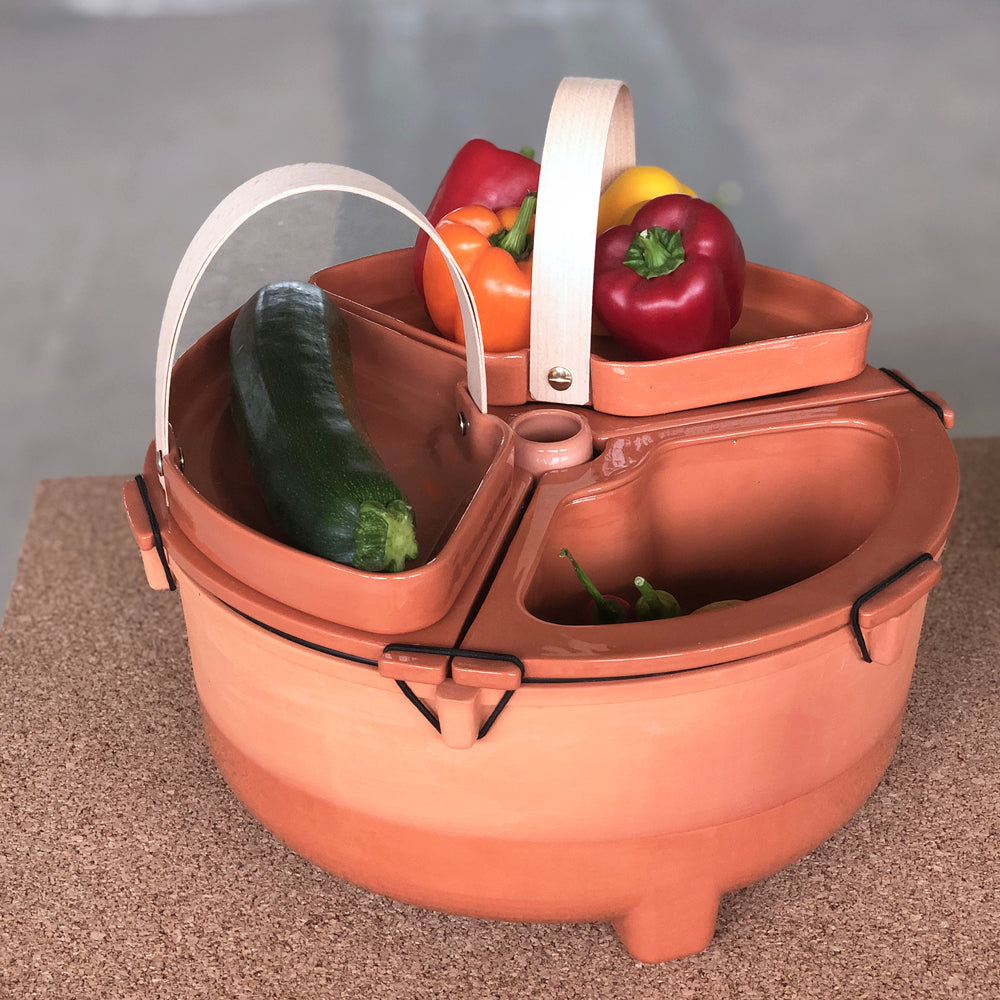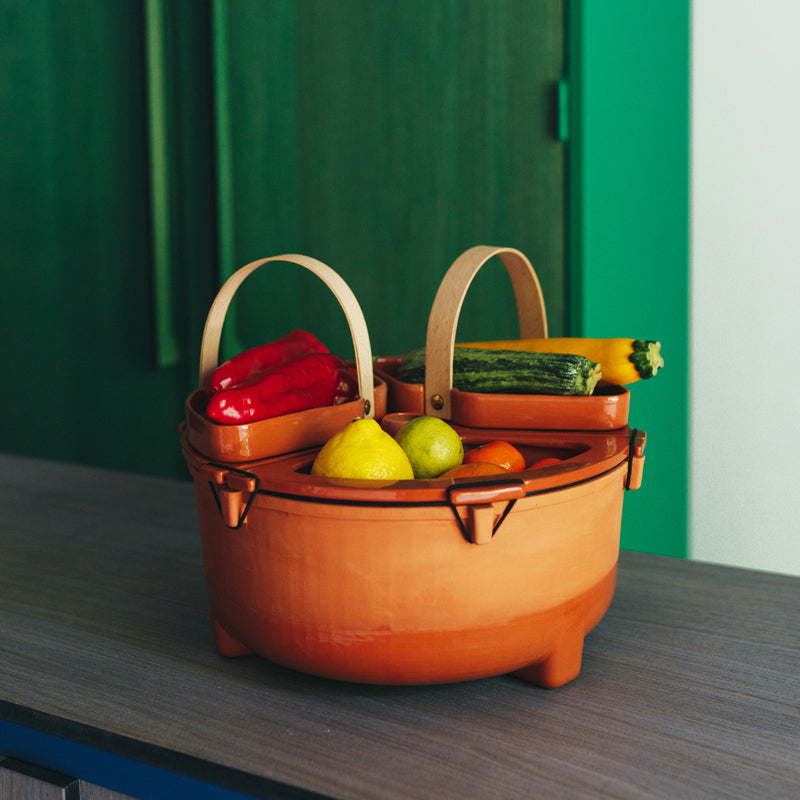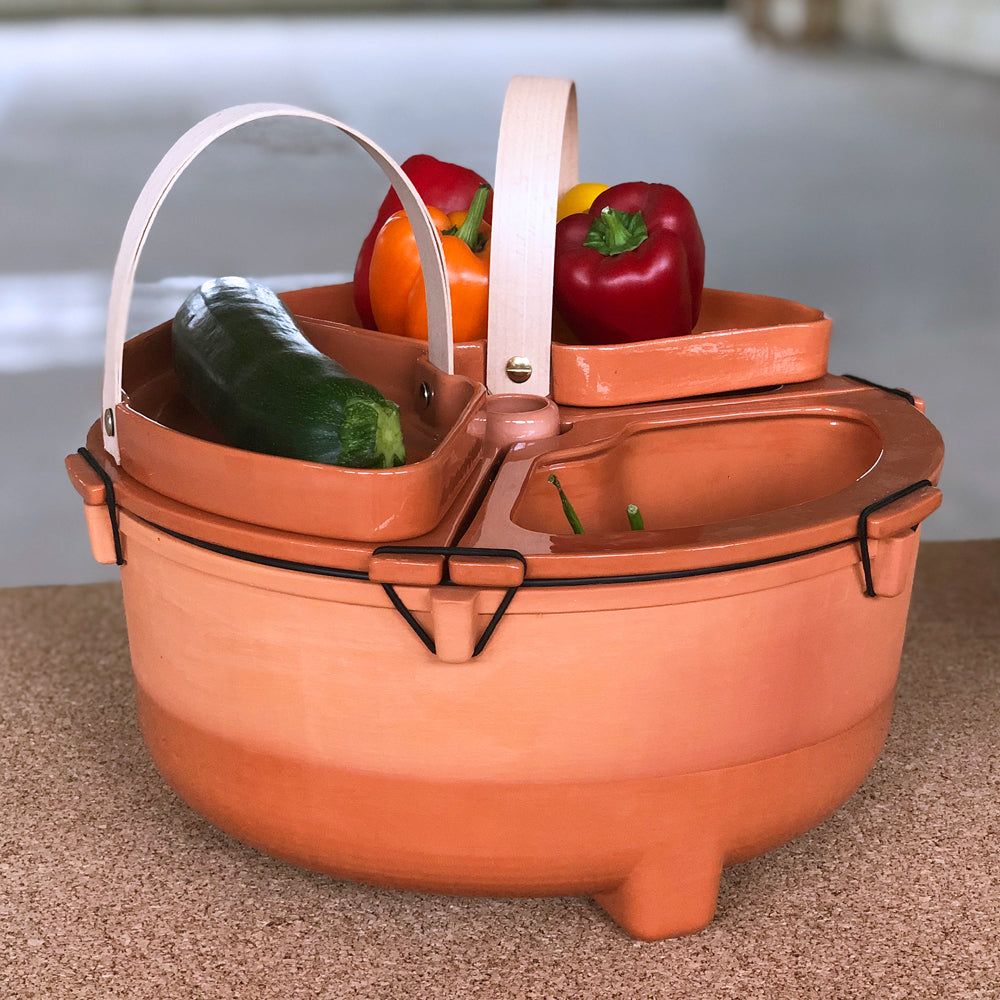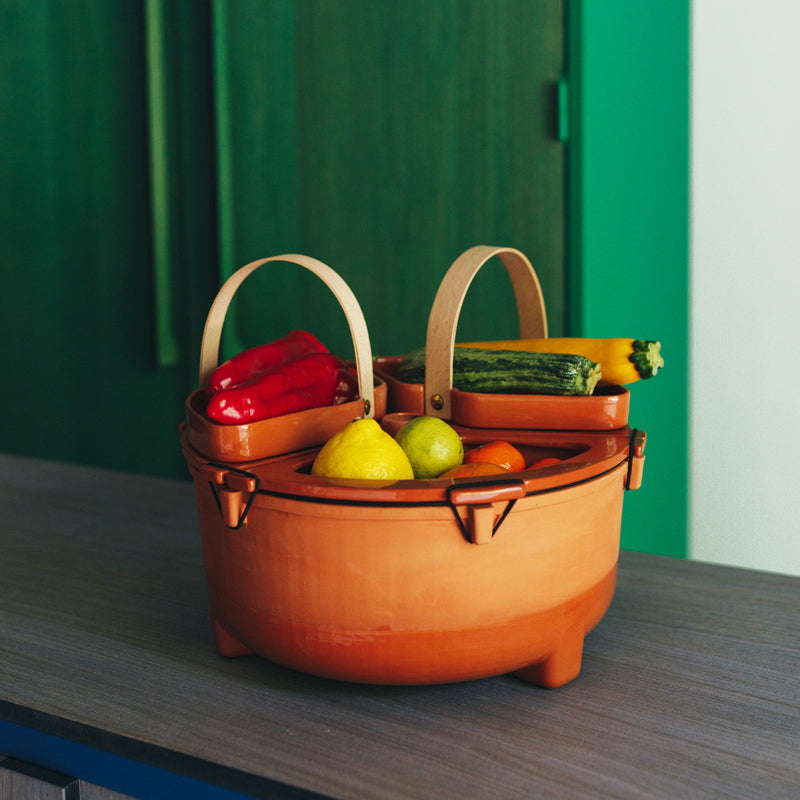 The best natural circumstances to store food​

Store separately and shield from ethylene

Put healthy eating options on a pedestal

Easily keep track of your fresh stock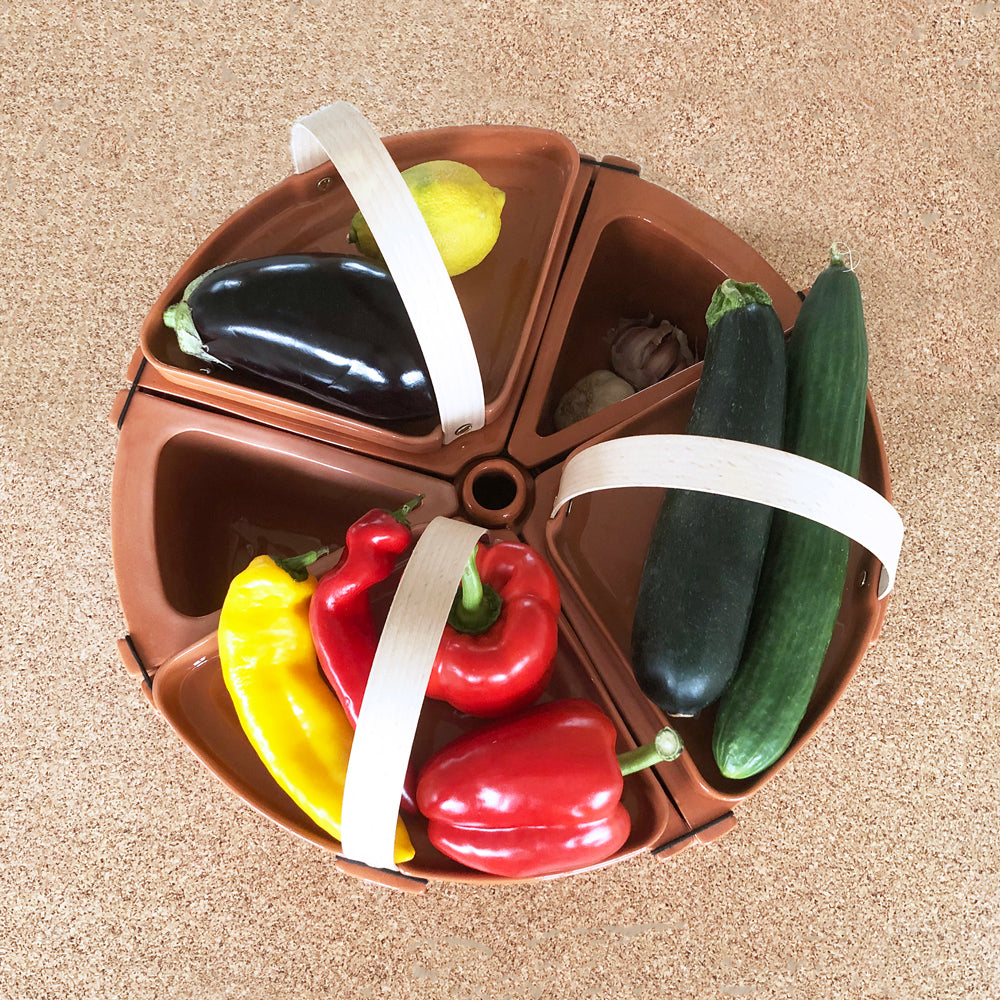 The Poma/Olera story
The Patera Media fruit and vegetable bowl is part of the Poma/Olera series: the result of extensive and ongoing research into the best natural way of storing fruit and vegetables in your own home to keep them fresh and eat them when they're ripe.
Read all about the Poma/Olera series
What i'd like to know about the Patera Media
What's that name about?

Patera Media is Latin and literally means 'medium bowl', so even though it might sound fancy, it simply explains what you are looking at.

(We made sure to check this with two classical scholars)
When can i buy the Patera Media?

We expect them to be available for (pre)ordering in the middle of 2023.

Send us an e-mail to be added to the pre-sell list.
Why is only part of the outer bowl glazed?

The outer bowl of the Patera Media is partly porous to allow water to evaporate via its walls. This has a slightly cooling effect that can help keep your fruits and veg fresh for longer.
Fill the outer bowel with water through the center spout.

You don't have to have water in the Patera Media all the time, but it can be helpful in warmer periods or climates.
Where is the Patera Media made?

Right now, everything is produced here at the studio in Overasselt. 


However, we are in the process of setting up a collaboration with a new production partner in Portugal to help us scale up the production.
Why can't i buy the Patera Media in a store?

You can't yet, but we're working on it!


Right now, it costs too much time and money to accomodate a store-percentage while still keeping the series affordable.


We're currently setting up a collaboration with a production partner who can take over the manufacturing and make it possible to scale up the production.
What if i break or lose a part of the Patera Media?

We all know things like that can happen. And personally hate it when that means we have to buy a whole new set.

That is why it will be possible to re-order all different parts of the Patera Media fruit & vegetable bowl.
"A product that repays for itself"

"Obst und Gemüse klüger aufbewaren"

"Can be composed in such a way nothing will end up in the bin anymore."

"You won't ever have to bin overripe fruits and spoiled vegetables again."

"Food doesn't end up in the bin anymore"
Designed for the future

We are very aware of the abundance of stuff already in the world, and purposely create innovative problem solving products that help save resources, reduce waste and make green living easier for as many people as possible.

Future proof design manifesto

Swift and secure shipping

We ship all over the world with trustworthy carriers.

Order for €100,- for free shipment within the Netherlands, €150,- for free shipment to Germany and Belgium, or €250,- for free shipment within the EU.

Read all about shipping here